Myla Goldberg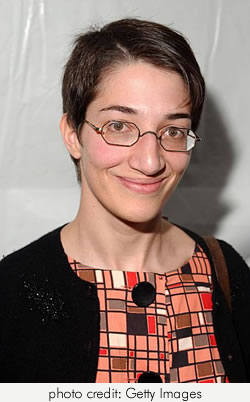 Myla Goldberg grew up in Laurel, MD, attended Oberlin College in Ohio, After graduating in 1993, she spent a year living in Prague, before moving to NYC. Her first novel, Bee Season, was a New York Times Notable Book for 2000, winner of the Borders New Voices Prize, and a finalist for the Hemingway Foundation/PEN award, the NYPL Young Lions award, and the Barnes & Noble Discover award. It has been adapted to film and widely translated. Her second novel Wickett's Remedy grew out of her fascination with the 1918 influenza epidemic, and her third novel, The False Friend, concerns a woman trying to untangle a 20-year-old memory and explores the complexities of moral judgment, the fallibility of memory, and the adults that children become.

Myla's short stories have appeared in Harpers and Failbetter, among other places. Her book reviews have appeared in the New York Times and Bookforum. She's also written an essay collection and a children's book. She sings and plays accordion and banjo in the Brooklyn art-punk band, The Walking Hellos. She writes and teaches in Brooklyn, where she lives with her husband Jason Little and their two daughters.
The Real World, from an interview by Sarah Anne Johnson

Every story, every novel will dictate its own answers to questions of research. When you're writing fiction, you don't ever have to use anything real if you don't want to, but it's a lot easier. If you're trying to create a convincing setting, you want to start with reality. You can't start from scratch because that's impossible. Given that that's the case, you use research to give yourself enough of the real-world fabric to get yourself in there.

In the case of Wickett's Remedy, I used research until I could look and see things without using research anymore. Research at first was a mental tool to help me inhabit that time period and those people. If there were details that stuck out or grabbed me and I realized that I couldn't do any better than that, I used them. Often the world is going to supply you with so much better things than you'll be able to come up with anyway. With Wickett's, so much was already there, I ended up not inventing much at all. There was no need to. But it totally depends on the book.

In Bee Season, all the salient facts are real. Using the real world as much as possible is neat because there is this indeterminate fuzzy blending line where the fact and the fiction meet and you don't really know where that is. Reading books like that makes a more intense experience because you can identify material that's true so that when material comes in that you're not sure of you can allow yourself to trust it. The real world can be your friend in that way. David Mitchell or Kevin Brockmeier try to integrate fantastical elements in their fiction, and trying to integrate the real world as much as possible in those can be a very helpful thing in gaining the trust of your reader.