NOVEMBER 2017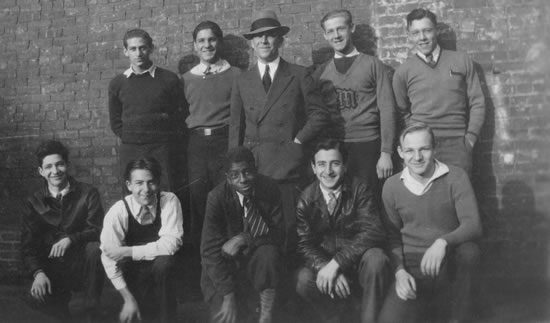 Sign painters graduating from Murray Hill Industrial School, Brooklyn, NY, 1934 (more)
Most of you already know that next fall Glimmer Train will—after almost 30 years—finally arrive at the end of the line: The last Writers Ask, #85, will be out in October 2019, and Glimmer Train #106, the fall issue, will also be out in October (a little later than the usual August) so we have time to tuck every last irresistible story into it!
Over the next twelve months, we'll be inhaling stories, looking for significance and beauty.
Want all the details? They're here: Bulletin 136.
And Issues #102 of Glimmer Train and #80 of Writers Ask are available now!
Glimmer Train, one of the most highly regarded short-story magazines in print, is represented in recent editions of the Pushcart Prize: Best of the Small Presses, New Stories from the Midwest, the O. Henry Prize Stories, New Stories from the South, Best of the West, New Stories from the Southwest, Best American Short Stories, and The Best American Nonrequired Reading.
When you subscribe to Glimmer Train, you'll find a big bundle of extraordinary fiction in your mailbox three times a year, and make it possible for us to pay writers well, to present their work in a handsome magazine where great short stories enjoy a physical existence that will persist. (We pay over $50,000 to fiction writers annually, nearly 3/4 of that to emerging writers.) writer/reader comments
Issue #102 is out! We hope you'll join us for more great stories! Still only $38 for the whole year, including U.S. delivery. For delivery around the world, check all destinations.
Writers Ask is an inexpensive, no-frills, topic-centered quarterly for writers who are serious about creating meaningful fiction. This publication is packed with the wisdom and perspectives of accomplished authors, many of whom teach in creative writing programs around the country.
Topics in the coming year: Approaches to Writing, Structure, Pacing & Scale, Description & Detail, Characterization, Advice for Beginning Writers, Theme, Point of View, Place & Setting, Dialogue, Revision, On the Role of Research, Writing Away from Home. See a list of our contributors.
$22/year including U.S. delivery. All destinations.
Wishing you all good months of reading and writing.
Looking forward,

Discovering, publishing, and paying emerging writers since 1990.

QUESTIONS? You'll find answers right here at the site: www.glimmertrain.org
Please note that we never share your contact information.