Upcoming deadline: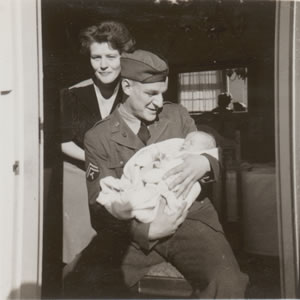 Baby Dabby, born just under a year after Pearl Harbor Day (more)
New Writer Award: 1st place $1,500 and publication in Issue 98. Deadline: 11/30. (The October Very Short grace period ends on 11/7.)

This category is open only to emerging writers whose fiction has not appeared in any print publication with a circulation over 5000.
NOTE: 11 of the last 12 first-place winners have been those authors' first print publications!
The 1st-place winner will be published in Issue 98 and will receive 10 copies of that issue. Second- and 3rd-place win $500/$300, respectively, or, if accepted for publication, $700.
Winners and finalists will be announced in the February 1 bulletin, and contacted directly the previous week.
Most submissions run 1,500 - 6,000 words, but stories as long as 12,000 words are fine. Writing Guidelines
I wrote a lot. And somehow in the course of those weeks I decided—although maybe that's the wrong verb because I don't remember making a decision, but somehow it seemed clear to me—that I was going to write. That that's what I was going to do.—Jennifer Egan, interviewed by Jeremiah Chamberlin
Essays in this bulletin:
A. Campbell: Reconciliation would be easy (would it?) if my writing took the form of explaining science to the lay public. There is a long history of eloquent scientists representing the best things about the scientific enterprise to the public. (read more)
Douglas W. Milliken: Sometimes these myths are empowering. Other times, they're dependencies. But over time, all run the risk of becoming dogma. And of all the myths that universally permeate the writing trade, there are three in particular that I've personally found most punishing. (read more)
Noy Holland: Part of my training was spin recovery. You had to push the controls full forward and let go. I neglected to let go; I turned the plane upside down, and every last little thing in it came falling around our heads. "IT'S MY PLANE," he shouted, "LET GO." (read more)
Results of the August Short Story Award for New Writers
Winners and finalists have been notified, the Top 25 list is posted, and here are the Honorable Mentions. Our thanks to all of you for letting us read your stories!
1st place goes to A. Campbell for "On Fleek/Fleek On."
This will be Campbell's first published fiction!
2nd place goes to Mary Kate Varnau for "Supernova."
3rd place goes to René Houtrides for "Senior Spring."
Feel free to forward this bulletin to your writer friends. As you know, the bulletin is free and meant to inform and to promote writers. (We never share your info.) People can sign up for bulletins themselves here. Missed a bulletin? They're archived here.
Looking forward,

Sisters and Editors
Discovering, publishing, and paying emerging writers since 1990.
One of the most respected short-story journals in print, Glimmer Train is represented in recent editions of the Pushcart Prize: Best of the Small Presses, New Stories from the Midwest, The PEN/O. Henry Prize Stories, New Stories from the South, Best American Mystery Stories, Best of the West, and Best American Short Stories
Every story published in Glimmer Train is unsolicited. And every year, we pay out over $50,000 to fiction writers.